Two UCA alumni, a couple dozen bicycles, and a rekindled friendship after 50 years. . . the makings of a great story, for sure!  It actually began years ago when, as young boys, Allory Deiss and Larry Petrie each discovered a love for bicycling.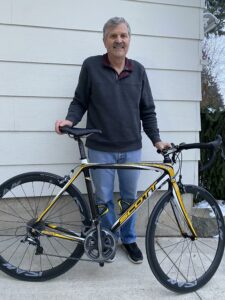 Deiss has many childhood memories involving bikes, but one especially stands out. "I was about 10 years old, living with my family in Orofino, Idaho, and our Pathfinder leaders were helping us earn the Cycling Honor.  One trip we took was a 50 mile ride along the Clearwater River.  I have never forgotten that ride, and from that time on, I was hooked.  I never lost interest in the sport."
For Petrie, it was a specific bike.  "The summer I was 12, I had a job picking strawberries near Portland, Oregon.  I saved up my money and bought a brand new Schwinn Varsity 10 speed.  It was one of the coolest bikes you could buy at the time, and in fact, I continued to ride it until I graduated from Walla Walla College."
Petrie and Deiss both attended UCA, where they got acquainted, graduating together in 1970.  Petrie became a nurse, and Deiss a geologist, and both continued to pursue cycling as a hobby and as a means of transportation to and from their jobs.  Engaged in the bustle of careers and family, the two lost touch.
Then last spring, their paths again crossed at UCA when they arrived on campus to celebrate their 50 year class reunion.  "As we sat there going around the circle, catching each other up on our lives, I noticed that Larry's interest piqued when I mentioned racing in the Wyoming Senior Games," Deiss explains.  "When everyone finished, Larry and I spent the rest of the time talking about cycling."
"We did have a lot to talk about," Petrie agreed. "The more we learned about each other's involvement with the sport, the more I wished we had stayed connected through the years."   Between the two of them, the list of bicycle adventures is impressive.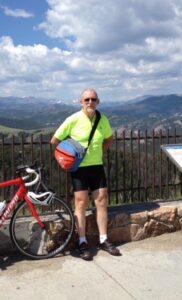 Deiss has especially enjoyed racing, and has won his age division at the Wyoming Senior Games a number of times. He has also qualified for and competed in the National Senior Games, once placing 16th in his event.  Each year he participates in "Tour de Wyoming," a week long ride around the state, camping with the other riders along the way.  He describes it as a great way to stay active and to meet others who share his passion.  Retired now, he finds he has much more time to dedicate to riding.  But even at his busiest, he made getting out on two wheels a priority. "During the last five years before I retired, I only missed two days of riding my bike to work," he says. This past summer, Deiss qualified again for the National Senior Games to be held in Pittsburg, Pennsylvania in the summer of 2023.
Petrie got involved in triathlons a number of years ago.  He quickly realized that he was falling behind his teammates in the swimming and running events, but making up the time when he got to the bike portion.  Armed with that knowledge, he started entering bike races, and found his niche.  Competitive biking is not the only way he enjoys the sport, however.  He and his wife, Jan (Brown), also a 1970 alum, have enjoyed tandem riding, attending rallies in the Northwest and even touring Thailand on their tandem bike with several other couples.  Another memorable trip he spoke about was a cross country ride with a friend who was training for the Race Across America and wanted to be familiar with the course.  Beginning their ride in San Diego, they averaged about 150 miles a day, reaching Atlantic City, New Jersey 20 days later.  Petrie most recently competed in the Montana Senior Games, winning his age group in all the events he entered, and also qualifying for the 2023 National Senior Games.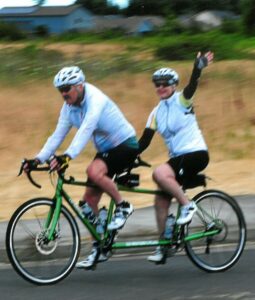 The two friends, happy to have discovered a shared interest, are making plans to ride together in the coming months.  Deiss expressed a sentiment that Petrie would surely echo.   "Riding gives me a boost that keeps me feeling less than 70."