FoundationONE Elects New President (January 06, 2017)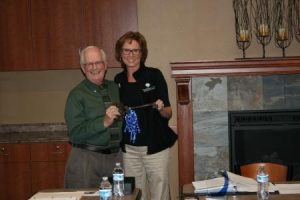 FoundationONE is pleased to announce Mindy Weber, a 1985 graduate of Upper Columbia Academy (UCA) in Spangle, Wash., was elected president during the annual meeting on Sept. 29, 2016. Weber follows three visionary leaders: Terrence Finney, a superior court judge; Tom Stanyer, a lead engineer with Boeing Co.; and Doug Wells, a school administrator.
FoundationONE is a private, lay-led nonprofit organization dedicated to raising an endowment for scholarships for UCA students. The organization recently allocated $100,000 to 109 students for the 2016–2017 school year.
"UCA had a significant impact in my life, and I am excited to be a part of a group that helps students get that life-transforming experience," says Weber. "While we are pleased that our scholarships were able to get 109 students across the financial barrier, we worry about the other students who don't even attempt to enroll. Our 1,000 awards are small when compared with the annual cost (nearly $18,000); thus we are eager to be able to begin awarding some $5,000 and $7,000 scholarships. Our ultimate goal is to ensure that no student who wants a Christian education is ever barred from UCA because of financial hardship."
For more information about FoundationONE, go to www.foundationoneuca.org or call 509-939-1716.
---
Linda Klinger
Upper Columbia Academy FoundationONE executive director
Linda Klinger was previously Gem State Adventist Academy development director.