This Week@UCA December 14, 2018
December 13, 2018

Posted by:

Krista Mikkelson

Category:

This Week @ UCA
Dear UCA Family,
Monday Morning Prayer Time
Every Monday morning, we meet in the Lobby of the Ad Building at 8:00 a.m. to have weekly prayer time. This week, December 17, we are praying for the Fox Christmas Concert and Rob & Julie Hagele. If you are on campus, we would love to have you join us, and if not, please pray for us wherever you are.
Fox Concert
Please join us for the UCA Christmas Concert at the Martin Woldsen FOX Theater on Thursday, December 20, 2018 at 7:30 p.m.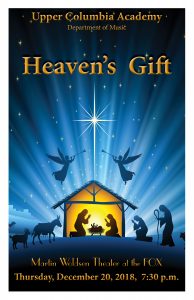 Christmas Home Leave Transportation Schedule
2018-2019 Christmas Home Leave Bus Schedule
Lions Basketball Schedule
2018-2019 basketball schedule2
Documents
#17 December 14-20, 2018
Menu
Looking Ahead
December 16                            ASB Officer Christmas Party
December 16                            Rec Ski
December 20                           Music Concert at the Fox – 7:30 p.m.
December 21-6                        Christmas Break
January 7                                  Classes Resume
January 11                                 Final Senior Tribute Deadline
January 11-13                            SWOP Retreat
January 13                                 Rec Ski
January 18-20                          Rec Ski Retreat