This Week@UCA January 31-February 6, 2020
January 30, 2020

Posted by:

karla.whitmore

Category:

Uncategorized
Dear UCA Family,
Friday Morning Prayer 
Every Friday morning at 8 a.m., in the lobby of the Ad Building, we gather together to pray for specific people and events. This week we are praying for Eric and Trish Johnson and UCA Administration. We also remember the parents and families of our students. If you are on campus, we would love to have you join us. If not, please pray with us where you are. This will be our prayer focus this coming week as well. "Patience can persuade a prince, and soft speech can break bones." Proverbs 25:15 NLT
Sabbath and Sunday Activities 
Saturday evening, the bus loads at 6:00 p.m. and is going to the Spokane Chiefs hockey game. The UCA Gym will also be open from 6:30-8:30 p.m. for open gym. Sunday afternoon, there will be a Super Bowl party in the cafeteria starting at 3:00 p.m.
Rec Ski 
Rec Ski Bus leaves the campus at 6:00 a.m. Sunday morning. This bus will also be stopping at Yokes Fresh Market-Latah in Spokane at 6:45 a.m. to pick up village students.
Junior Class Job Shadow February 17-21, 2020
As part of their educational curriculum, our Junior class is required to complete a job shadow experience; exploring a career of their choosing. Students started preparing in the fall with career testing, learning how to write a cover letter and resume as well as practice interviews with our staff. The program will conclude with the Juniors sharing their shadow experience amongst their peers and doing a final summary paper in their English class. It is our prayer that this experience will help them clarify their decisions as they look ahead to college and other training programs. If you have any questions about the program or might be interested in hosting one of our Juniors for a future job shadow, please contact Jami Fleck, Student Labor & Job Shadow Coordinator @ jami.fleck@ucaa.org or 509-245-3610
Documents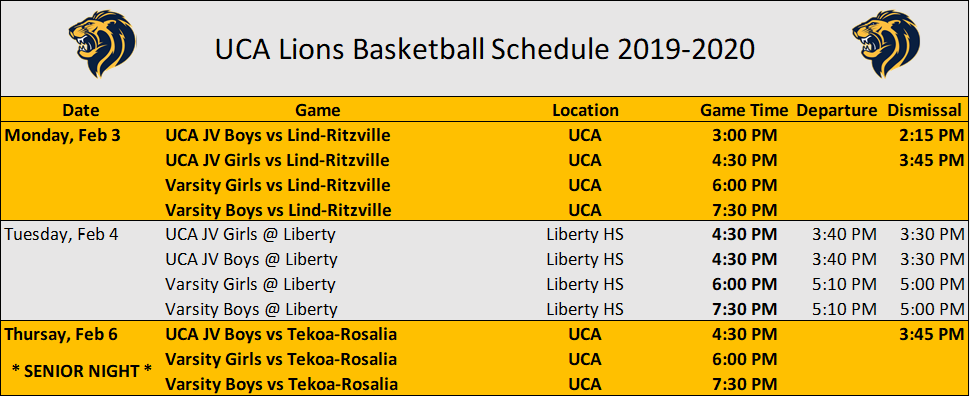 22-This Week@UCA January 31-February 6, 2020
Menu This Week@UCA February 2-7
Looking Ahead 
Rec Ski                                                      February 2
WWU Choir Festival                               February 5-8
ASB Valentine Party                                February 8
Sunday School                                          February 9
Home Leave                                              February 12-16
Junior Class Internship                          February 17-21
Rec Ski                                                       February 23
ASB Spirit Week                                      February 24-28