This Week@UCA March 15-21, 2019
March 14, 2019

Posted by:

Krista Mikkelson

Category:

This Week @ UCA
Dear UCA Family,

This weekend is the end of our 2019 Student Week of Prayer.  On Friday evening, Emily Perkins and Josie Clark will be sharing.  We will hear from three more students during the church service at 11:00 a.m. on Sabbath–Jessica Ing, Takota Byard, and Kerianne Kruger.  The UCA Choir will also be singing for the church service.  Thank you for keeping our campus in prayer this week.  We have truly felt the Holy Spirit present during the talks throughout the week.
Spring Break and Cambodia Mission Trip
Spring Break is almost here! On March 18, a group is heading to Cambodia for a mission trip over break. Your prayers for them would be greatly appreciated. The rest will have a noon dismissal on Wednesday, March 20. We hope you all have a fantastic break!
HOPE Taskforce
On Sunday, March 17, our students will be participating in HOPE Taskforce.  Groups will be working on various projects around the area.  The project lists are posted in Mr. Hartman's classroom.  Check with Pastor Misa if you have questions.  Misael.barba@ucaa.org.
Monday Morning Prayer Time
Every Monday morning, in the lobby of the ad building, we meet at 8:00 a.m. to have prayer time. If you are on campus, we would love to have you join us. If not, please pray for us wherever you are. This week we are praying for the Cambodia mission trip and for Ted & Debbie McConnachie.
Home Leave Transportation Information
Please use the following link to see the departure and arrival times for the home leave buses.  Also, please be at the drop-off and pick-up locations 15 minutes early so the bus is not delayed.  Thank you!  2018-2019 Home Leave transportation info
Academy Days
If you know a student who would like to attend UCA, Academy Days is the perfect time to get connected!  Visit us on April 11 and 12 and experience life on our campus.  Attend a class, meet the teachers, stay in the dorms, and eat in the cafeteria.  There will be a mini concert by our music groups, and a performance by Acro Soul, our gynmastics team.  Online registration is available now.  Donivan Andregg, VP for Admissions, would be happy to get in touch with students and families.  You can reach him at (509) 245-3680 or email him at donivan.andregg@ucaa.org.  Check out and share the following information: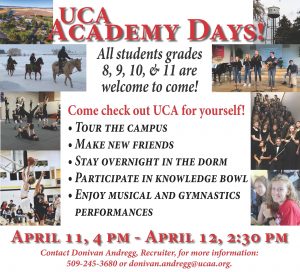 Documents
#28 This Week@UCA March 15-20, 2019
Menus

Looking Ahead
March 17 (Sunday)              HOPE Taskforce
March 18-29                         Cambodia Mission Trip
March 20-31                         Spring Break
April 1                                    4th Quarter begins
April 7-9                                WWU Days for Seniors
April 11-12                             Academy Days
April 14                                  ASB Spring Party
April 17-21                            Music/Acro Soul Tour