This Week@UCA March 31-April 4, 2019
March 28, 2019

Posted by:

Krista Mikkelson

Category:

This Week @ UCA
UCA Family,
Welcome back!  We hope your break was refreshing and that everyone is rested and ready to begin the final quarter of the school year.  Fourth quarter begins on Monday, April 1, and spring is finally here!
Monday Morning Prayer Time
Each Monday, we meet to pray in the lobby of the Administration building at 8:00 a.m.  This week's prayer time will focus on Jesse and Michelle Melendy and the UCA Administration.  Please join us if you can, either in person, or pray with us wherever you are.
WWU Days for Seniors
The seniors will be leaving for Walla Walla University on Sunday, April 7.  Please check out the following links for more information about the event. If you have questions, you can contact the Senior Class Sponsors–Mrs. Melendy, michelle.melendy@ucaa.org or Pastor Sid, sid.hardy@ucaa.org.
Academy Days
If you know a student who would like to attend UCA, Academy Days is the perfect time to get connected!  Visit us on April 11 and 12 and experience life on our campus.  Attend a class, meet the teachers, stay in the dorms, and eat in the cafeteria.  There will be a mini concert by our music groups, and a performance by Acro Soul, our gynmastics team.  Online registration is available now.  Donivan Andregg, VP for Admissions, would be happy to get in touch with students and families.  You can reach him at (509) 245-3680 or email him at donivan.andregg@ucaa.org.  Check out and share the following information: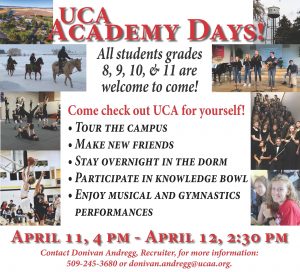 Documents
Menu, March 31-April 6, 2019#29
This Week@UCA March 31-April 4, 2019
Looking Ahead
April 1                                    Beginning of 4th Quarter
April 7-9                                WWU Days for Seniors
April 11-12                             Academy Days
April 14                                  ASB Spring Party
April 17-21                            Music/Acro Soul Tour
April 28                                 Sunday School
April 28                                 UCA Gala, Fernando Orgeta Concert
April 28-May 1                     Marine Biology Trip
May 1-5                                  Home Leave
May 6-11                                Spring Week of Prayer