This Week@UCA October 12, 2018
October 11, 2018

Posted by:

Krista Mikkelson

Category:

This Week @ UCA
Dear UCA Family,
This weekend concludes our Fall Week of Prayer with speaker Jeff Wines.  We have been blessed to have Pastor Jeff on our campus ministering to our student body and staff this past week.  We look forward to our last few meetings together this weekend–Friday at 11:10 a.m., Friday at 7:30 p.m., and Sabbath at 11:00 a.m.  All meetings are in the UCA Church.  Please keep our campus in your prayers!
FACULTY ADVISEE LUNCH
Faculty Advisee Lunch will be immediately following church on October 13.  The dorms will reopen at 3 p.m.  There will be no lunch served in the cafeteria.  Day students are encouraged to participate.  The list of advisers and their advisees is posted on the bulletin board in the Ad Building (main floor).  Contact the Principal's Office if you have any questions.
SUNDAY SCHOOL
Regular classes will meet on Sunday, October 14.  We will follow a shortened B schedule.  Class Party Schedule
MONDAY MORNING PRAYER TIME
On Monday, October 15, 2018, we will meet in the lobby of the Administration Building at 8:00 a.m. for prayer.  If you are on campus, please join us.  If you can't be here in person, join us where you are in praying for Amanda Birney, our Spanish and Algebra I teacher; Doug Brant, our guitar teacher; and the Sophomore girls.  We also pray for any requests that have been put into the prayer box in the lobby during the week.  Thank you for your continued prayer support!
AMATEUR HOUR AUDITIONS
Amateur Hour is coming up soon, and auditions are October 16, 2018.  If you would like to be in the program, please see your deans or music teachers for an audition application.  You must fill out this application in order to get an audition.  Please turn in the applications to the girls' deans by October 14, 2018.
COLLEGE FAIR
On October 17, 2018 our seniors will meet with representatives from Andrews University, Burman University, La Sierra University, Oakwood University, Pacific Union College, Southern Adventist University, Union College, and Walla Walla University. Seniors will be able to submit free applications to these Adventist colleges, as well as ask questions about their preferred majors, the atmosphere and location of campuses, scholarship opportunities, and what type of student visitation program the schools offer for prospective students. Seniors are required to attend and juniors may attend if they are not missing other class or work obligations. Please see the attached flyer in the Documents section of this post.  AACU-Barcode Info Flyer for College Fair
HOME LEAVE SCHEDULE AND TRANSPORTATION INFORMATION
Please see the attached schedule for home leaves and the home leave transportation schedule and information.  If you have questions, please email Kris at kris.dalrymple@ucaa.org or Charles at charles.hartman@ucaa.org.
TECHNIC ARTS FAIR
The Technic Arts Fair will be November 1, 2018.  For more information or to register, contact Mrs. Bacon at shelley.bacon@ucaa.org.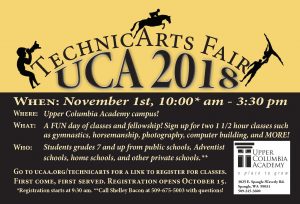 GIVE BLOOD, HELP SAVE LIVES! 
The American Red Cross will be at UCA for a Blood Drive on Wednesday, November 7, 2018 from 10:00 a.m. to 3:00 p.m.  For an appointment, please contact Mr. Spano at john.spano@ucaa.org.  Or call 1-800-773-2767.  Blood Drive, November 7, 2018
DOCUMENTS
#8 This Week@UCA Oct 12-18, 2018
LOOKING AHEAD
October 12-14                         Closed Weekend
October 13                               Faculty Advisee Lunch
October 14                               Sunday School
October 14                               Class Parties
October 16                               Amateur Hour Auditions
October 17-21                          October Home Leave
October 17-21                          Union College Soccer/Volleyball Tournament
October 26                               Senior Pictures, Senior Yearbook Tributes, Graduation Tribute photos due
October 26                               End First Quarter
October 26-28                         Music Tour (Brewster/Omak)
October 29                               Begin Second Quarter
October 31                                PSAT
November 7                             ASB Blood Drive