UCA Dedicates Wallace Dining Commons
December 7, 2015

Posted by:

Bob Lenz

Category:

Gleaner
(From left) Randy Terry, Upper Columbia Conference vice president for finance; Linnea Torkelsen, Upper Columbia Academy alumni and development director; Larry Marsh, Upper Columbia Conference superintendent of schools; and Weston Davis, UCA building committee chair, watch the Wallace Dining Commons mortgage burn during the 70th Alumni Homecoming. CREDIT: TAMARA TERRY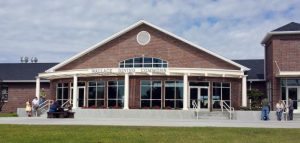 Alumni and friends were able to witness a miracle during Upper Columbia Academy's 70th Alumni Homecoming on Sabbath, Oct. 3. The Wallace Dining Commons Dedication was scheduled on the program, but as of print time the remaining balance had not been raised to pay the debt.
"I knew we couldn't have the dedication unless we finished paying the conference," Linnea Torkelsen, UCA alumni and development director, admits. "$56,000 still had to be raised." Torkelsen said she went to her knees and then to Facebook. By Sabbath morning, $26,588 remained.
"I did the offering appeal with great peace because of the potato harvest the previous week," explains Torkelsen. "UCA volunteers had planted 800 pounds of seed potatoes hoping for a crop of 5,000 pounds — enough to feed the whole campus for the school year. Instead, they harvested just under 15,000 pounds. If God can do that for a potato crop, He could certainly supply the final amount we needed to go ahead with the dedication."
With great anticipation, the congregation waited as the offering was counted. At the end of the service, it was announced the Lord had provided all that was needed to pay off the final bill with $120 to spare.
A simple, joyous service was held to dedicate the Wallace Dining Commons, named after former faculty member Clarence "Pop" Wallace. His family joined alumni, staff and students in watching Randy Terry, Upper Columbia Conference vice president for finance, light the fire that consumed the mortgage.
Weston Davis, UCA building committee chair, gave a brief overview of the project, which spanned more than three years, and John Winslow, UCA principal, thanked the building committee members, donors and volunteers who made it all possible. Larry Marsh, Upper Columbia Conference superintendent of schools, offered the dedicatory prayer.
"We so appreciate Linnea's work and Weston's leadership to help bring the project to completion," Winslow adds. "Staff, students and guests have appreciated the wonderful facility we have to use now."
---
Tamara Michalenko Terry
Upper Columbia Academy communication coordinator