UCA Honors Grandparents With Music, Art
July 18, 2016

Posted by:

Bob Lenz

Category:

Gleaner
Honoring grandparents is the main focus of this special weekend. Students enjoy having them see their performances. Credit: Wendy Urbin
---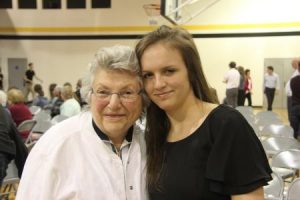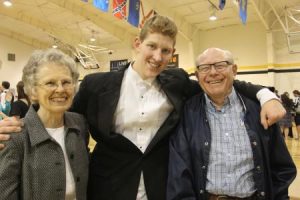 The annual Grandparent Weekend/Spring Arts Festival was held this past spring on the campus of Upper Columbia Academy (UCA) in Spangle, Wash. Students performed a play, This I Know, written by sophomore Kaitlyn Kramer. They also shared personal messages, displayed their artwork and performed lots of music. The weekend concluded with a gymnastics team performance.
Another special item of the weekend was the dedication of the Nathan Greene painting, The Blessed Hope, during the worship hour. It was generously donated to the school by a family wanting students and staff to have a constant reminder that there is a better day ahead. "Generous families like these help instill the reality that we are all working together," says John Winslow, UCA principal. "We want to help young people develop a relationship with Jesus so we can be in heaven together one day."
"When I came 17 years ago, this weekend was called 'Music-A-Rama,'" says Curtis Anderson, UCA vocal director. "It has been going on since at least the '70s. It was historically a fundraising concert for the music department."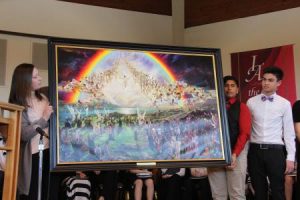 The format changed about seven years ago to include every creative outlet on the campus. The art teacher displays student projects including paintings, pottery and quilting. The industrial arts teacher shows his students' woodworking, welding and automotive projects. The stained glass teacher shares beautiful glass projects from her students, and the yearbook class members display their best photography."Since our music department is so well supported by our constituency and these other departments have very few opportunities to earn extra money," Anderson says, "the offering is split evenly between the departments participating."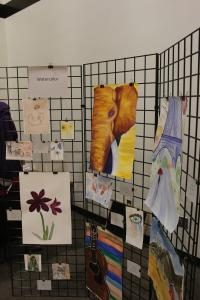 "We are blessed with such wonderful students," Dean Kravig, UCA band/orchestra director, says. "The Springs Arts Festival portion is like a prism to me. Just as a prism splits up all the different colors of light, you can see so many different aspects of the talent on this campus in one evening. And it's just such a bonus to have it be for the student's grandparents."
Bob Lenz, UCA information technology services director, works with a team of student volunteers to stream many of UCA's events live online for family and friends who are not able to attend in person. The majority of the performances for Grandparent Weekend/Spring Arts Festival are available on the Upper Columbia Academy YouTube channel.
---
Tamara Michalenko Terry
Upper Columbia Academy communication coordinator